Become a CELLULAR ONE Lifeline subscriber and get a FREE smartphone or cell phone with 1,100 FREE any network minutes plus 1,000 texts and 3 GB of FREE DATA. The offer is valid for all new customers who comply with government subsidy requirements. Arizona, New Mexico, and Utah residents can apply for a free phone and unlimited minutes+sms+10 Gb data from CellularOne.
To begin with, Cellular One is not only a Lifeline provider of free government smartphones and cell

phones. Other parts of its business are selling mobile gadgets, providing AirMax home internet. Moreover, the company also offers no contract, prepaid and contract wireless phone plans.
Cellular One Plans & Phones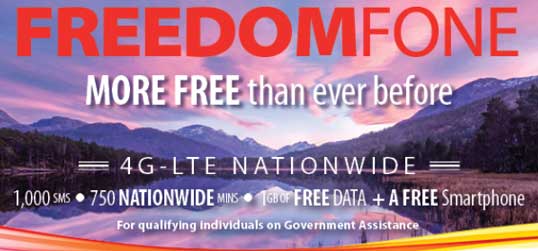 Low-income Americans who qualify for Lifeline assistance program (see Am I Eligible? page of our website freegovernmentsmartphones.com) can apply for a free phone and complimentary monthly minutes & texts. Cellular One will process your application along with you low-income status proof. After that, it will send you a free phone Hyundai E245s or a free government Android smartphone Unnecto Quattro S and will activate your Lifeline membership. This Lifeline plan is branded as a FreedomFone plan for customers in Arizona, New Mexico, and Utah. Tribal residents are also welcome to apply for the free phone & service program. For them, the company offers a FREE4LIFE plan. The difference from the non-Tribal area residents is that applicants from Tribal lands get not only a free Android smartphone but also UNLIMITED TEXTS & MINUTES every month with gigabytes of LTE data.
Cellular One's FREE4LIFE is part of the federal government Lifeline benefit program, and only qualified persons may participate. Applicants must present documentation of income or program participation. Lifeline service may not be transferred to any other individual, including another eligible low-income consumer. By law, the Lifeline program is only available for one phone line per household, whether landline or wireless.
Cellular One has many cell phones and smartphones on sale at high prices, and you can buy one from the company to use with your free Lifeline plan. Many cutting-edge smartphones have low price tags. The list of Cellular One smartphones includes LG, Samsung Galaxy, iPhone, HTC Desire, Samsung Galaxy Note, Asus Zen Fone, Alcatel, Coolpad, and much more.
The easiest way to get enrolled in Cellular One Lifeline program is to apply online, through the company's website www.cellularoneonline.com. Equally comfortable is to start an application process at one of the carrier's stores. Furthermore, you can contact Cellular One customer service at 1-800-730-2351 or leave a message in Contacts section of the website.