Sign up for the Safelink Wireless Lifeline and get a FREE SMARTPHONE (some states) and 350/500/750 or unlimited free monthly voice minutes & unlimited text messages plus 4.5GB of data. Californians can enjoy UNLIMITED minutes & texts with 6GB of data every month! Unlimited minutes and unlimited data are also available as a new option under the Emergency Broadband Benefit!
The fastest way to enroll in a free government cell phone program of Safelink Wireless is to apply through

the company's website at www.safelinkwireless.com. Similarly, you can initiate the enrollment process by calling the Safelink Wireless customer service number for enrollment and plan changes support. It is 1-800-Safelink (1-800-723-3546). Furthermore, an applicant can send the application by regular mail to SafeLink Wireless, PO Box 220009, Milwaukie, OR 97269-0009.
Safelink Wireless is one of the largest telecommunication companies providing U.S. government free phones and service assistance to low-income citizens who can prove their status by submitting copies of the documents. It brings us back to the eligibility issue. Given that you have read the Am I Eligible? Page of our freegovernmentsmartphones.com website, you should have a more or less complete idea if you qualify for the company's Lifeline program. For some reason, low-income people tend not to apply if they do not participate in federal help programs. It's never too late to reconsider. Just make sure your income is below or close to the poverty level in your state. See the "States" page of our website in the main menu on the top.
Safelink Wireless Lifeline Plans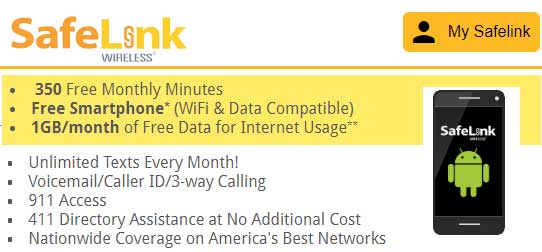 A company offers several free plans to its customers. Interestingly, you can change your plan once a month before the 25th of the month when you get minutes and message allotment. So, the Safelink Wireless plans are the following free:
A FREE TOUCH SCREEN PHONE (selected states) with 350 (500 for Puerto Rico or 750 for Utah or unlimited for Kentucky) free monthly minute plan, unlimited texts, 4.5GB data. The con of it is that the minutes do not roll over to the next month. Available in all states where the provider currently operates except California.
A FREE ANDROID TOUCH SCREEN PHONE with an Unlimited free monthly minute plan, unlimited SMS messages, 6GB of data. It is the California Lifeline plan from the company.
In 2021 Safe Link offers all its new and existing customers a new better plan. It includes unlimited talk/text and unlimited data nationwide plus 10GB or 15GB Hot Spot data (varies by state). It is a part of the Emergency Broadband Benefit (a temporary relief approved by the U.S. government and managed by the F.C.C.).
In case you need more minutes, Safelink Wireless top-up is a solution. You can buy more minutes online at safelinkwireless.com or at retail stores that sell top-up cards.
Safelink Wireless Smartphones and Cell Phones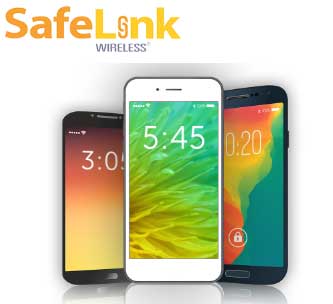 The company sends free smartphones and free cell phones  (usually, Motorola, Nokia, LG, and Kyocera) to its new customers choosing the phone model itself. You do not have a vote in this process. However, you can bring your smartphone or cell phone and use it as a Safelink smartphone or cell phone. Another option would be to upgrade to a better model of Safe Link Wireless smartphones. You can do it through the online store of the provider. Apple iPhone is also for sale there, though it is not a free Obama smartphone. Overall, free Safelink Wireless smartphones are the full-featured choice for your daily needs!