EnTouch Wireless Lifeline program gives you a FREE phone or smartphone and 1,000 minutes, UNLIMITED texts plus 100 Mb 4G data every month! California residents get UNLIMITED minutes and Unlimited texts with 500 Mb data (1.5 GB for Tribal consumers). No hidden costs, no contracts, no bills.
Since 2012, enTouch Wireless (sometimes misspelled as en Touch Wireless) has represented Lifeline

assistance program in many states. It provides every person in need of telecommunication help with a FREE cell phone/smartphone and supplies FREE monthly wireless service. It is a real hand up to Americans who are not doing that great these days.
The chance to get a free smartphone or cell phone from enTouch Wireless is open to many: single moms, veterans, homebound older adults, members of tribes, etc. To get enrolled in the program you needed to meet the qualification criteria similar to every state and reviewed on Am I Eligible? page of this website. In summary, before you decided to download enTouch Wireless application for free cell phone & service, make sure you satisfy at least one or both requirements: you already get help from the government in the form of assistance program like Medicaid, food stamps, Tribal TANF, etc. or you have income lower than 135% of federal poverty level. If you belong to these groups of Americans, then you are most likely eligible to get one of the free enTouch Wireless phones and will enjoy complimentary voice time, messages, and data.
Basically, enTouch Wireless phones and smartphones come with features like Tier 1, National Wireless Network, Free local & national wireless calling, Texts & Multi-Media Texting, Email, Web Surfing, Facebook, Free 411 (Directory Assistance), 911 – Emergency Support, Voicemail, Three Way Calling, and Caller ID. The enTouch company does not specify which models it provides its Lifeline customers. Hence, you have to apply first and then, see what mobile phone or smartphone you get.
As for enTouch Wireless plans. There is a basic one that is offered in all state except California. In addition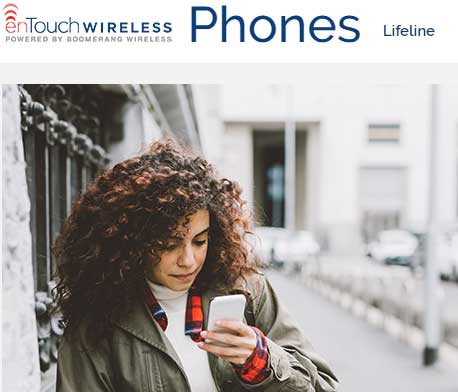 to a free gadget, you get 1,000 minutes, unlimited texts every month and 100 Mb of LTE web data you can use for checking your email or Internet browsing. Californians are luckier since they will receive unlimited texts & air talk minutes, and more 4G data: 500 Mb. Of course, more minutes, texts, and data can be purchased from the company. To get more information on enTouch Wireless Lifeline plans, you can check their page www.entouchwireless.com or contact corporate enTouch Wireless customer service at 1-866-488-8719.
If you already own a smartphone and want to enroll enTouch Wireless Lifeline assistance, you can keep the old device since the company has the Bring You Own Phone subprogram. If, after checking with enTouchWireless, your phone can be determined to work on the network, you will even get 100 Mb data as a bonus from the provider.
At present, Arizona, Arkansas, California, Colorado, Georgia, Hawaii, Idaho, Indiana, Iowa, Kansas, Kentucky, Louisiana, Maryland, Michigan, Minnesota, Mississippi, Missouri, Mississippi, Nebraska, North Dakota, Nevada, Ohio, Oregon, Oklahoma, Pennsylvania, Puerto Rico, Rhode Island, South Carolina, South Dakota, Texas, Utah, Washington, West Virginia, Wyoming, and Wisconsin are covered by enTouch Wireless Lifeline program.