When you feel like things are up in the air with getting one of the free government smartphones or no cost cell phones, do not neglect the following information on general eligibility criteria you are to comply to get your desired Lifeline wireless assistance.
Almost certainly, every one of us understands that it would be unfair for the authorities to hand out free phones packed with a bunch of complimentary minutes to whoever asks for these. The federal budget is not able to cover extensive aid programs. Hence, some rules have been introduced to select the right kind of applicants and to provide those with the best service possible all things considered.
If you are continuously worried about money concerns and think you are indeed in need of additional assistance in the form of a free government smartphone or cell phone with 1,000 to unlimited minutes + unlimited texts + web data package, then make sure you fall into at least one of the following categories of eligibility. Afterward, you are welcome to go on with your Lifeline program discount application process with a telephone provider of your choice. Also, remember, there might be some small deviations of restrictions for a particular state you live in, such as a larger household income norm or state assistance program participation.
Income-Based Eligibility for Free Government Smartphones & Cell Phones
The federal initiative to provide free landline and wireless phones from the government primarily above all is helpful to those of us living in poverty or close to it. The question here is: How do you distinguish between the poor from well provided for and rich? Are you poor because you cannot afford the latest iPhone? Are you poor if you know at least a dozen ways to save a buck or two? This matter might sometimes be confusing. Fortunately, authorities in Washington, D.C. have come up with the Federal Poverty Guidelines, and it's not hard anymore to learn your financial status in the eyes of our government.
The Federal Poverty Guidelines do not define the terms income, family, or household since various definitions might be applied to these. Instead, they let the administrators of assistance programs – Lifeline in these case – choose the term to use as an ultimate factor for determining eligibility. As a result, all applicants for receiving the Lifeline discount have to calculate the income of their household. According to the USAC, a household is anyone living at a particular address (including relatives and unrelated people), who share household expenses and income(s). The total household income includes all taxable and non-taxable salaries, interests, dividends, child support, spouse support, rental revenues, stipends, social security, pensions, casino and lottery winnings, etc.
To qualify for a free government cell phone based on income, you need to prove that the total annual income of the household you are a member of is at or below 135 % of the poverty level stated in the Federal Poverty Guidelines. This rule does not apply to the residents of several states where the upper limit is 150 percent of the Guidelines. To confuse the matter further, some states (California, for instance) prescribe their maximal income levels.
We have calculated the income levels according to the 2020 Guidelines and listed them in the table below. Please, note, your total household income per year has to be at or below the level for a household of a corresponding size. If you see that you are just a little above the allowed limit at the moment, do not get too upset. Keep in mind that as a rule of thumb, the Federal Poverty Guidelines are updated in January of every year. Usually, the incomes mentioned in the Guidelines for all states increase year to year. Hence, in the worst case scenario, wait for the next update. Hopefully, you will be able to apply for free government smartphones and cell phones after the next update if this year it is not possible.
Apply for free government cell phones/smartphones if your household income is the same or lower than the amount calculated for your state of residence:
| Household size (number of people) | All states, D.C, and territories except: AK, CA, HI | Alaska | California | Hawaii |
| --- | --- | --- | --- | --- |
| 1 | $17,226 | $21,533 | $27,500 | $19,818 |
| 2 | $23,274 | $29,093 | $27,500 | $26,771 |
| 3 | $29,322 | $36,653 | $31,900 | $33,723 |
| 4 | $35,370 | $44,213 | $38,800 | $40,676 |
| 5 | $41,418 | $51,773 | $45,700 | $47,628 |
| 6 | $47,466 | $59,333 | $52,600 | $54,581 |
| 7 | $53,514 | $66,893 | $59,500 | $61,533 |
| 8 | $59,562 | $74,453 | $66,400 | $68,486 |
| For each additional person, add | $6,048 | $7,560 | $6,900 | $6,953 |
Program-Based Eligibility for Free Government Smartphones & Cell Phones
The vast majority of applicants for free government phones apply through this option. The basic rule for this eligibility alternative lies in the principle that if you are currently enrolled in at least one of government-assisted programs, then you automatically qualify for a free phone from the government. If you choose this option to apply, there is no need to calculate and provide proof of your household income, which makes this enrollment option much easier than the income-eligibility one.
A standard list of federal and state assistance programs a person needs to be a receiver to apply for free smartphones or free cell phones is given below. Be sure to consult with the planned providing company regarding the list of programs from which they accept the applicants.
Apply for free government smartphones (when available) and cell phones if at least one member of your household participates in:
Medicaid;
Supplemental Nutrition Assistance Program (SNAP), also called Food Stamps;
Federal Public Housing Assistance (FPHA) or Section 8;
Supplemental Security Income (SSI);
Veterans Pension and Survivors Benefit;
Bureau of Indian Affairs General Assistance;
Tribal Temporary Assistance for Needy Families (Tribal TANF);
Head Start (only households meeting the income qualifying standard);
Food Distribution Program on Indian Reservations;
Or any qualifying assistance programs established by your state (check the STATES section of our website for complete lists for all states).
You can qualify through your child or dependant if they participate in one or more of the abovementioned assistance programs.
VERY IMPORTANT: You are only allowed to get one Lifeline discount (phone or internet, but not both) per household, not per person.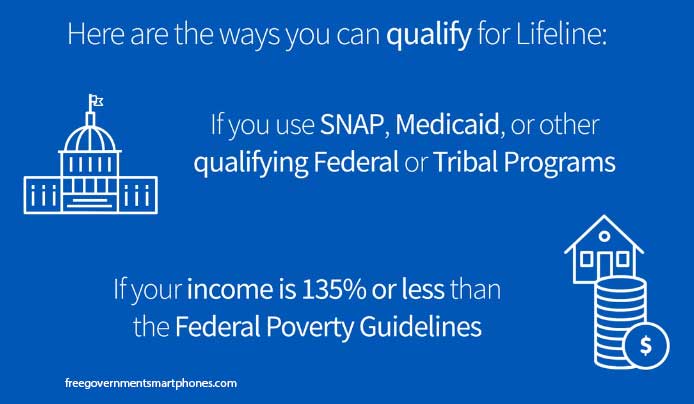 Free Government Smartphones/ Cell Phones Eligibility: Our Two Cents
To sum up, there are few more things about free government smartphones eligibility worth noting. First of all, if you find yourself fitting both Lifeline requirements (income and program participation), you can choose just one to apply. Second, every year you have to recertify your status to maintain the free phone and the service plan with which it comes. Always check the specific details and procedures for this with a provider you choose for getting your free government smartphone or cell phone.
Click HERE to learn how to apply for a free phone and service.