Assist Wireless is one of the Lifeline newest free government cell phones providers. Naturally, it only operates in a limited number of states. At present, the company offers Lifeline deals in Arkansas, Missouri, Maryland, Minnesota, and Oklahoma. Still, the Assist Wireless plans and phone offers vary in these states. In Maryland and Arkansas, all eligible applicants have a chance to get a free gov cell device and free airtime at no cost at all (most of the other providers of Obama phones supply the same deal in these states).
Assist Wireless Plans

To be specific, Arkansas, Maryland, and Missouri Assist Wireless basic plans serve 1,000 free airtime minutes, 500 texts and 50 MB of data on a monthly basis.
Oklahoma residents who chose this company as their free gov cell phone and smartphone provider have several plans to choose from. The free Lifeline plan on non-Tribal Oklahoma land sets you with 1,000 minutes, 500 texts & 50 MB data at no cost every month or an option of a 100 free minutes, 500 texts along with 3GB data package! The basic $1 plan (with fees and taxes charged for it) comes with a pretty good deal: 1,000 voice minutes and unlimited messages (in or out) plus 50MB of data. Another option of the 1$ plan sets you with 100 minutes, unlimited messages, and 3GB data bonus a month. If you do not use up all the free airtime in any given month, this airtime will not roll over to the next month.
Oklahoma Tribal $0 Lifeline plan covers unlimited minutes, unlimited text and 4GB data monthly. On the other hand, a free government cell phone for seniors with unlimited talks is an excellent benefit. For $1 you get unlimited talk & text with a 4.5GB of data. Pay $5/month and get unlimited talk & text plus 5GB data deal.
Check Eligibility for Assist Wireless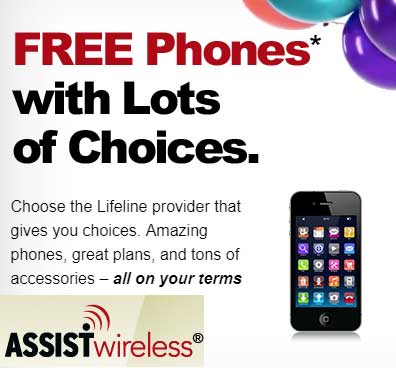 To qualify and enroll Assist Wireless you need to be either a receiver of federal/state assistance, i.e., participate in Food Stamps program, Supplemental Social Security Income, Medicaid, Temporary-Assistance for Needy Families, Federal Housing Assistance Program, etc. (See the list for each state at www.assistwireless.com). Also, if you do not receive this type of program assistance but have a low income (within the limits of the poverty level in a selected state), you might be eligible to apply, too.
How to Enroll Assist Wireless Program
To start your enrollment, check the latest info about the provider and fill out the Assist Wireless application online (assistwireless.com). For more information call the company's customer service phone number (1-855-392-7747, 1-855-420-2449).
If you already have a smartphone or regular cell phone (the gadget has to be unlocked and working in GSM/CDMA), you can enroll in an Assist Wireless program with it. The company will provide a SIM card and a $15 Account Credit along with the no charge service.