American Assistance Lifeline program brings its customers a free phone/smartphone from the government, 500 free monthly minutes, UNLIMITED text messages & 3 GB Free 3G data. Californians get unlimited minutes & texts with 4 GB data.
American Assistance is a popular Lifeline service provider brought by American Broadband & Telecommunications. It has one of the best deals in the Lifeline world: it does not only provide standard

cell phones but also offers its Lifeline customers free government smartphones. Even though having a free cell phone with no strings attached is already a blessing and might be the best solution for seniors, the younger Lifeline users will enjoy all the features a free smartphone can offer. Lifeline program of this company or any other participants does not take into account the age of the applicants, only their low-income or program participation background.
Today, free government smartphones and cell phones the company are available to eligible applicants from Arizona, Arkansas, California, Colorado, Georgia, Hawaii, Illinois, Indiana, Kentucky, Maryland, Michigan, Minnesota, Missouri, Nevada, Ohio, Pennsylvania, Puerto Rico, Rhode Island, South Carolina, Utah, West Virginia, and Wisconsin. Alongside, AA is rapidly developing and is coming soon to states like Alabama, Connecticut, Delaware, District of Columbia, Florida,Louisiana, Massachusetts, New Hampshire, New York, North Carolina, Tennessee, and Texas. If you live in these parts of the U.S., wait a bit to enroll in the program with this provider.
American Assistance Enrollment Application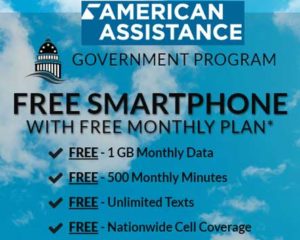 To enroll in American Assistance Wireless Lifeline program, you need to meet the general criteria for applicants and have to be able to qualify based on income level or your participation in assistance programs like Medicaid, Food Stamps, etc. Qualification requirements might differ slightly by state. Also, every year all Lifeline subscribers need to go through annual recertification to continue their use of the AA service and to avoid its discontinuance. Both, initial enrollment and recertification can be done online, at www.americanassistance.com or by contacting American Assistance customer service.
American Assistance Phones & Smartphones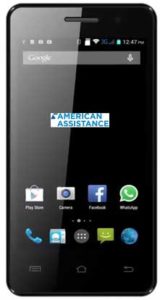 American Assistance Wireless has two options for its clients. They can sign up for a free government cell phone called Companion Phone or order a free government smartphone named Freedom Phone. American Assistance Freedom phone is a top choice smartphone with 3.5-inch screen, Android 5.0 OS, rear and front cameras, Wi-Fi, and other great features. Furthermore, it is a Dual SIM smartphone so that you can use another provider SIM with it, too.
All things considered, American Assistance might be one of the best choices for enrolling in Lifeline assistance, as it gives a great no contract, no bills monthly plan and modern mobile phones for free.